Is Sports Betting Legal In Maryland?
States all over the country are legalizing sports betting and that is making people wonder is sports betting legal in Maryland? The answer is now a definitive yes. As one of the nation's 13 original colonies, Maryland sure has a lot of great history and culture. One thing that has seemed to be true over the years is that when you get a bunch of fascinating people gathering in one place, it generally leads to a raucous and rowdy sports culture, and Maryland is sure no exception. Once you get so many rowdy sports fans gathered, it makes sense that several questions about sports betting are to follow, including the biggest one, "is it legal?"
The most important thing to know is that betting on sports in Maryland is legal. Local voters overwhelmingly approved legal MD sports betting on their November 2020 ballot. Just six months after that, Governor Larry Hogan signed MD HB 940 a sports betting bill that would lay the foundation for how the state-regulated market will work. There were provisions for both a bevy of land-based sportsbooks and online sports betting sites. However, there are still a number of regulatory processes that need to occur before they launch. In the meantime, the online overseas-based sportsbooks that have been serving MD residents for over 10 years are still available and will be even after the state-regulated options launch.
Land-Based Sports Betting in Maryland:
Land-based sports betting in Maryland is coming in two different fashions. There are Class A licenses that will go to professional sports stadiums, casinos, and horse racing tracks. The amount of Class A licenses will be unlimited. Then there are Class B licenses for small businesses throughout the state. Class B licenses will be capped at 30 total and minority/women owned businesses will be prioritized for these licenses. There will be plenty of options but in the meantime, land-based sports betting in Maryland is not available. You can travel to neighboring states Pennsylvania, New Jersey, or West Virginia if you're craving the in-person experience. Otherwise, online sports betting in Maryland will be your only option.
Legal Online Sports Betting in Maryland:
Legal online sports betting in Maryland is available now and more options are set to come in the future. The law signed by Governor Hogan allows for a total of 60 licenses to be handed out to online sportsbooks that want to enter the MD market. When they launch, they will offer users plenty of options. But, they are still not allowed to offer some of the features that internationally-regulated online sportsbooks do.
By being based outside of the United States, online sportsbooks may work around the restrictions of the state of Maryland, so you should harbor no reservations about playing wagers with these legitimate, long-running enterprises. Many online sports betting sites come certified by major media outlets like CSNBC or FOX sports, and come backed by rave customer reviews. These businesses have worked a long time to earn such solid reputations, and there should be no fear of your money disappearing by choosing to open an account with one of these sportsbooks.
BetOnline Sportsbook - More Maryland Residents Bet With BetOnline Than In Las Vegas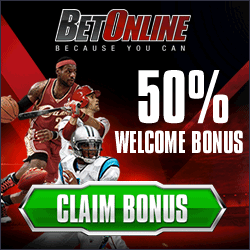 If you're thinking about opening an account, why not do it with one of the most welcoming sportsbooks in the world? Many online sportsbooks offer great sign-up bonuses when you first join, but the aptly named BetOnline is one of the only ones that will keep giving you bonuses as long as you are a member. For the entire life of your BetOnline membership, you will have access to a promotion code that will grant you 25% of your deposit in free play for use in their sportsbook. Using this life long deal, you can get an additional $1000 in free money every time you deposit. Use the promo code FORLIFE at the cashier to claim this bonus for every qualifying deposit. This is just one example of the great lengths BetOnline will go to not only attract new clients but to keep their existing clients happy. You certainly won't find treatment like that in land-based betting in Delaware, making BetOnline a much-preferred alternative for Maryland residents.
Top Maryland Sports Betting Sites
Rank
Online Sportsbooks
Bonuses Offered
Rating
US Players?
Play Now!




What's The Bottom Line? Will I Get In Trouble For Betting On Sports?
No, you will not get in trouble for betting on sports while you are in Maryland. In fact, now is one of the best times you can bet on sports while you are in Maryland. The overall attitudes of sports betting are changing all over the country and it is becoming more of an acceptable hobby. Next time your beloved Terrapins take the field, remember that you can make the upcoming game even more exciting by placing a legal, safe and responsible bet. It's very possible you may never watch a sports match the same way again. Sports betting in Maryland is legal and it's time you took advantage of that fact!